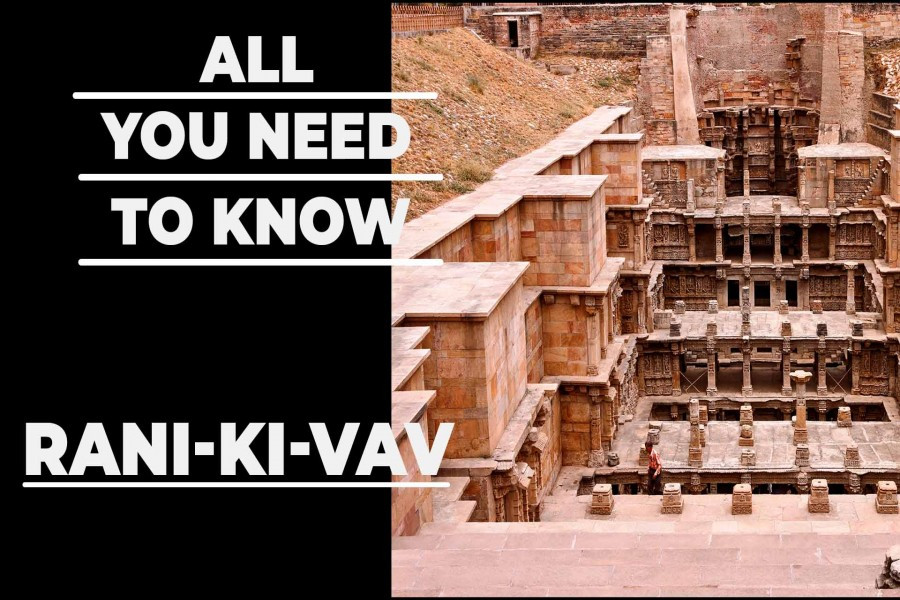 Rani Ki Vav - A monument lost in time, you carry in your pocket!
The Story Revealed Today!
When it comes to rich and diverse cultural heritage, Our India never lacks behind on beautiful and astonishing architectures. Sooner or later you'll come to see that the Reserve Bank of India (RBI) will soon be releasing a new lavender ₹ 100 currency note. The banknote highlights the richness of Indian cultural gifts as it prominently displays a photograph of 'Rani-ki-vav' or 'Ranki-Vav' (lit. Queen's stepwell), an 11th-century architectural wonder. But what's so cool about that?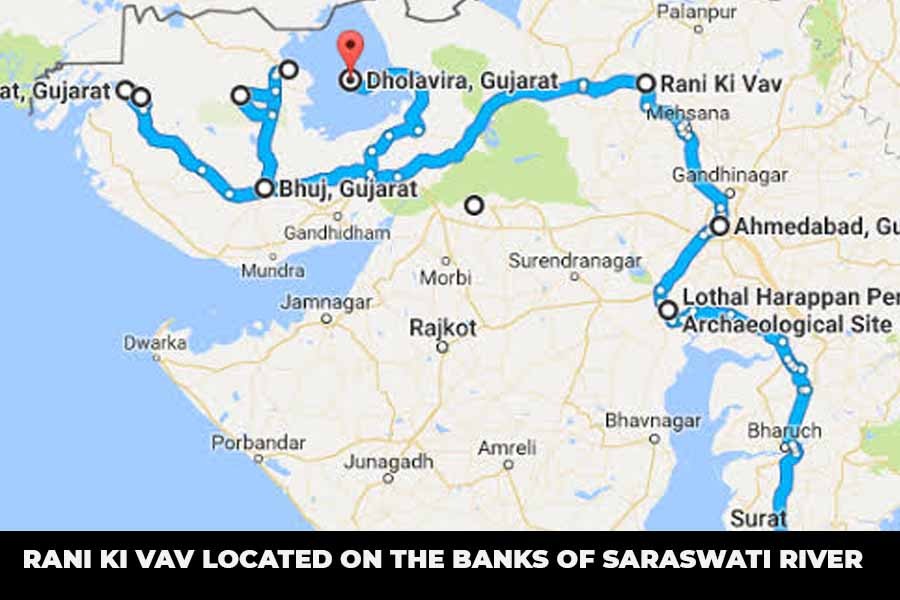 Situated in Gujarat's Patan on the banks of the Saraswati river, the 900-year-old establishment is a major tourist attraction, has been listed as one of UNESCO World Heritage Sites since 2014, and was awarded as the 'Cleanest Iconic Place' in India.

But it is not just another piece of tourist place or monument, but it is a memory of A Queen which was lost in time.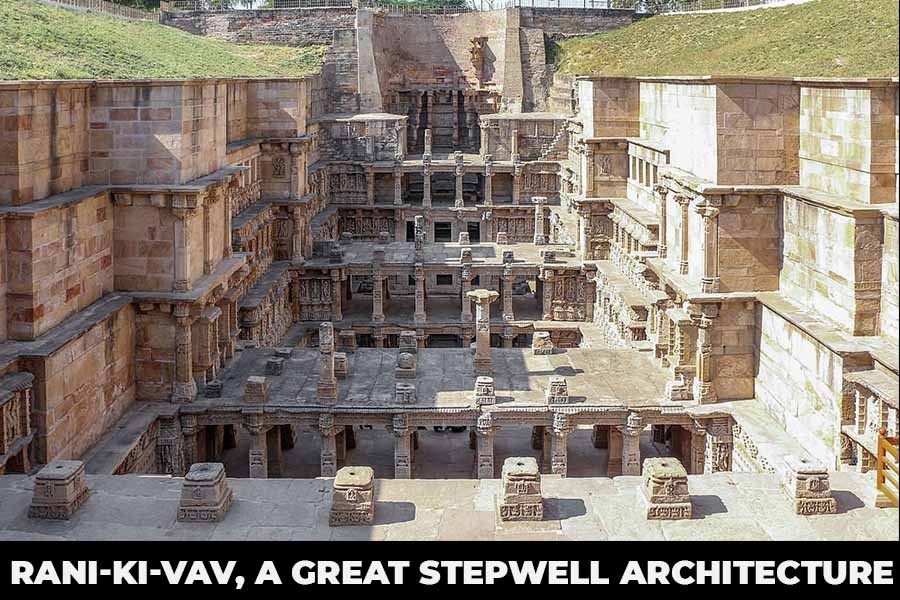 This stepwell was built by queen Udayamati, daughter of Khengara of Saurashtra, queen of the 11th-century Chaulukya dynasty as a memorial to her deceased husband Bhima I.

The stepwell was later flooded by the nearby Saraswati River and silted over.
In the 1890s, Henry Cousens and James Burgess visited it when it was completely buried under the earth and only well shaft and few pillars were visible.
In 1986, the major excavation and restoration were carried out by the Archaeological Survey of India (ASI). An image of Udayamati was also recovered during the excavation. The restoration was carried out from 1981 to 1987. Siltation has preserved the structure intact over the centuries.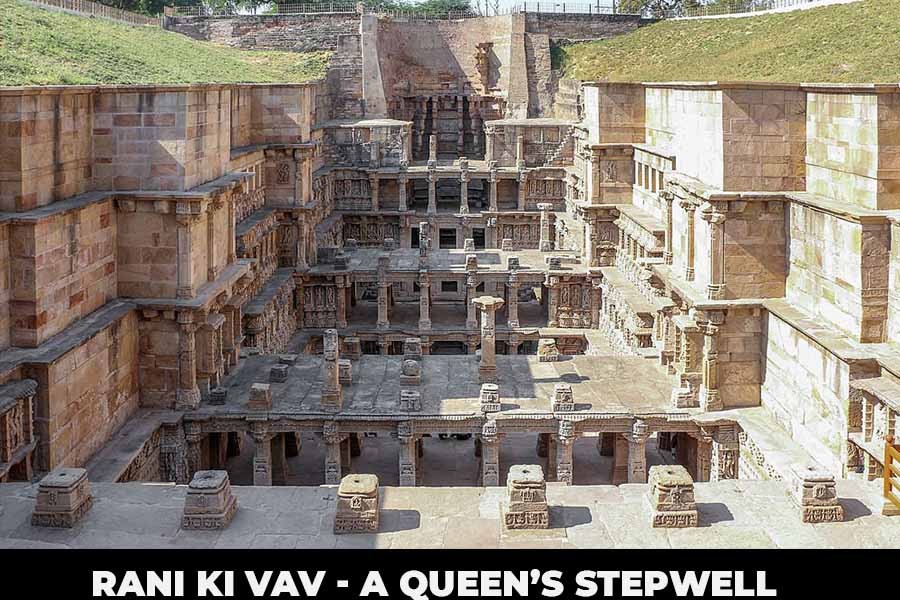 Divided into seven levels of stairs with sculptured panels of high artistic quality containing more than 500 principle sculptures and over a thousand minor ones combine religious, mythological and secular imagery, often referencing literary works.
Rani Ki Vav (lit. Queen's stepwell), is designed as an underground shrine or inverted temple having spiritual significance and represents the sanctity of water.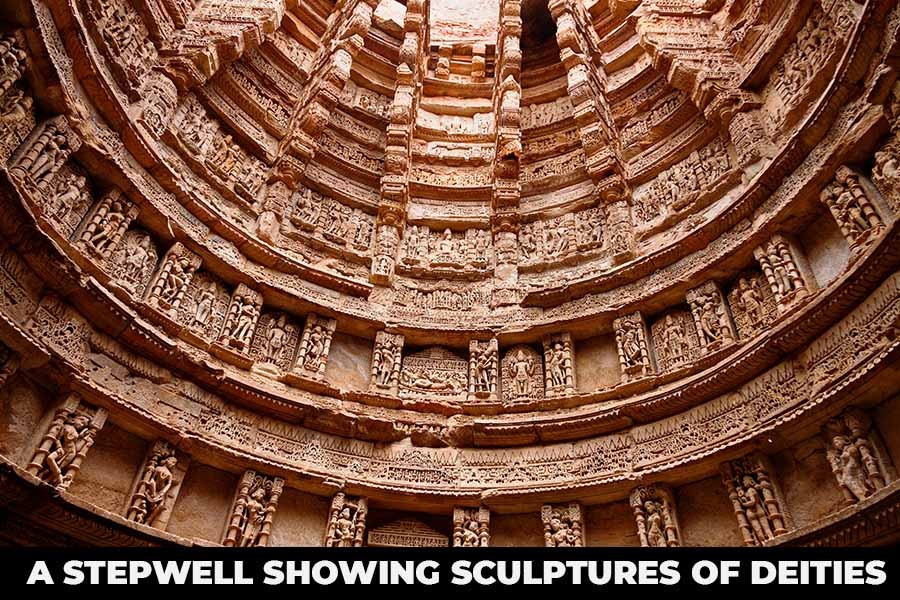 The beautiful ornamentation of stepwell depicts the entire universe inhabited by gods and goddesses; celestial beings; men and women; monks, priests, and laity; animals, fishes, and birds including real and mythical ones; as well as plants and trees.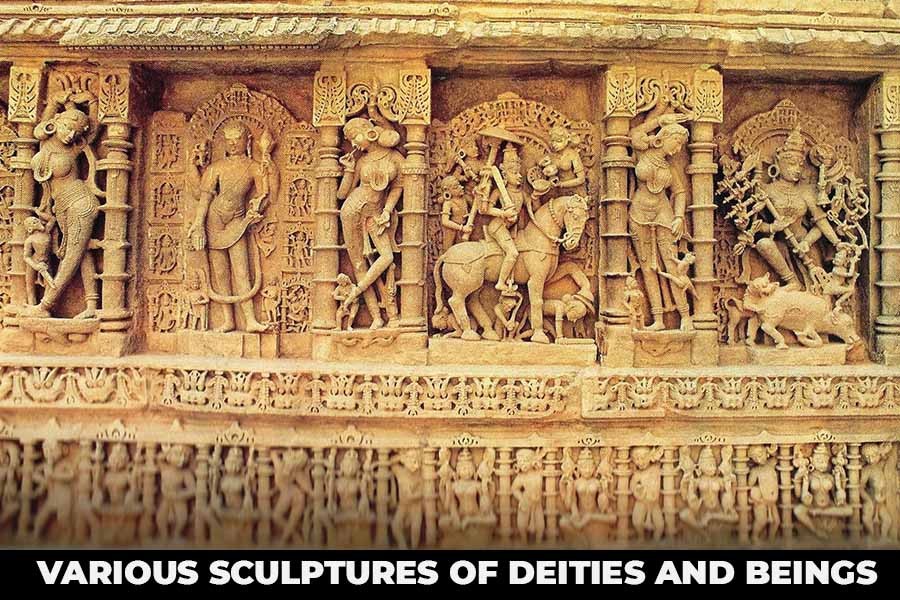 The sculptures speak about numerous Hindu deities including Brahma, Vishnu, Shiva, goddesses (Devi), Ganesha, Kubera, Lakulisha, Bhairava, Surya, Indra, and Hayagriva.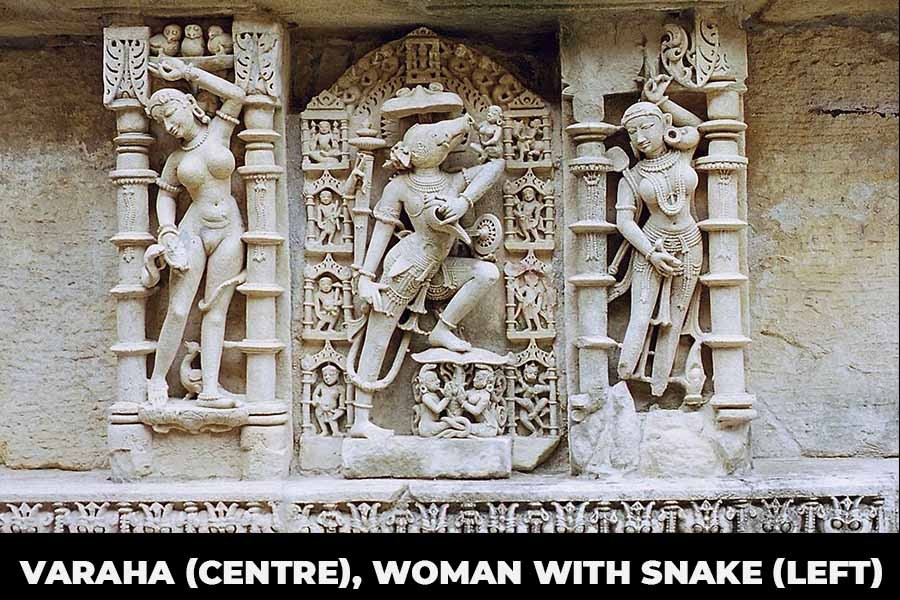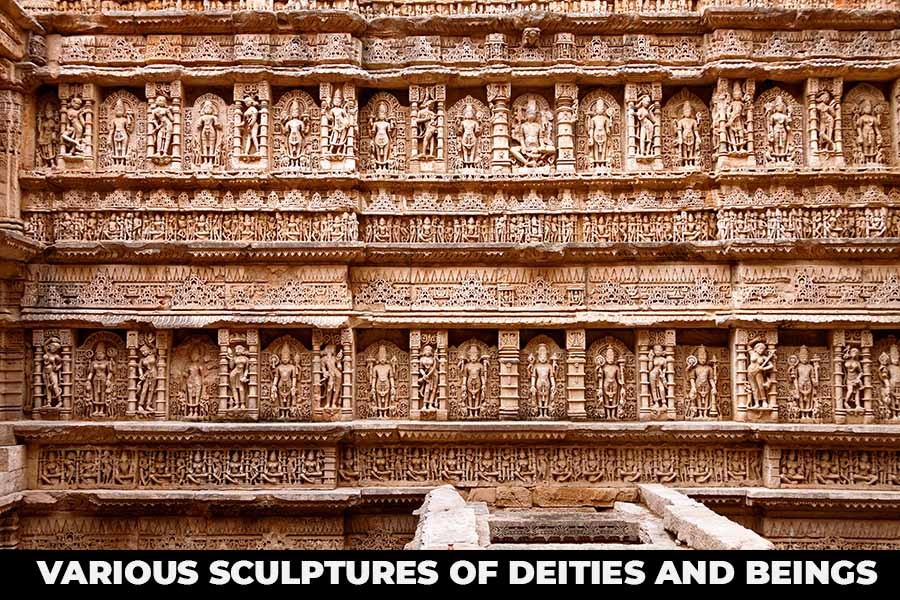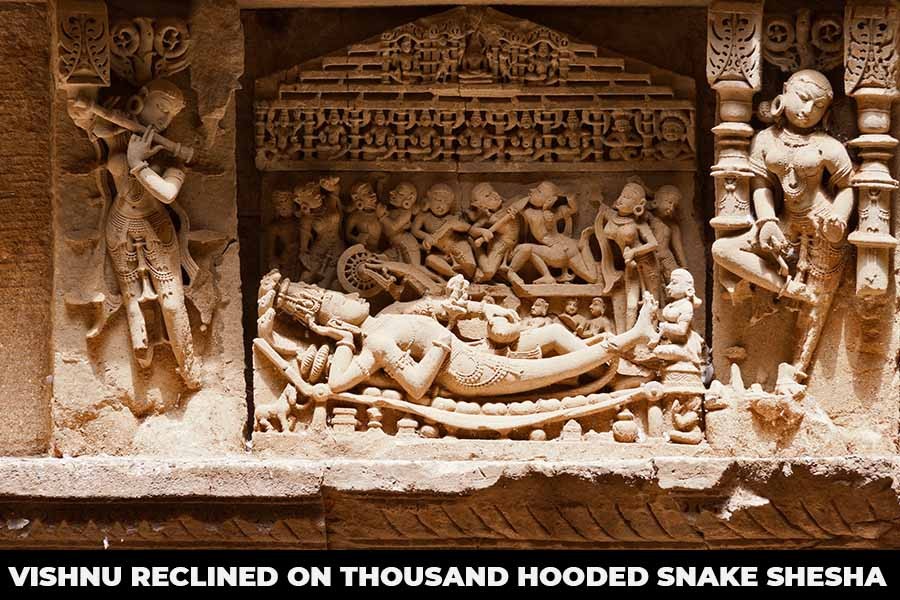 There are a large number of celestial beings (Apsaras). One of them depicts either applying lipstick to her lips or chewing on aromatic twig while a man is ticking her feet.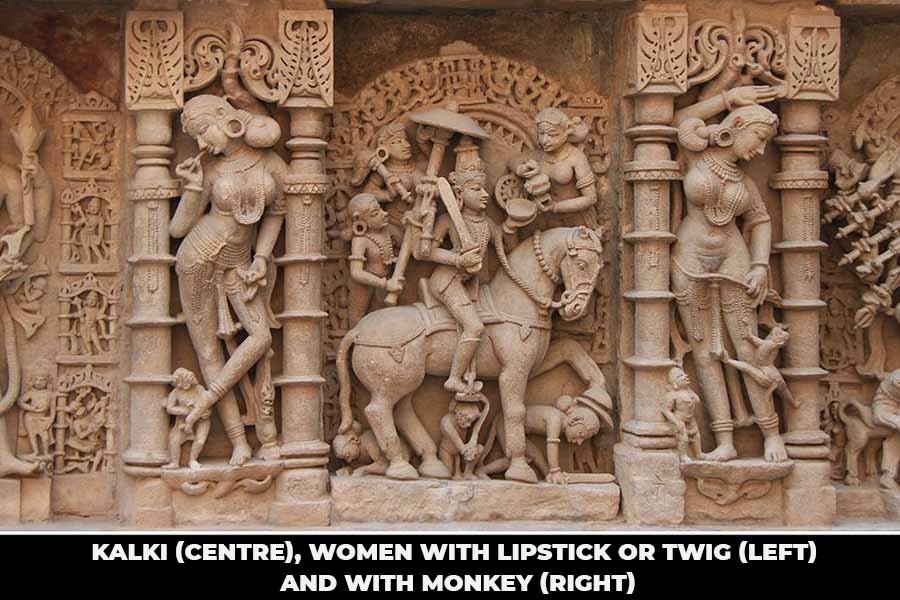 Another one showing an Apsara warding off a monkey clanged to her leg and pulling her clothes revealing her seductive body. At her feet, there is a nude female with a snake around her neck probably representing an erotic motif.
A sculpture of Nagkanya (serpent princess) with long hair and swan as well as sculptures of celestial dancers. They hold beauty as well as love in its sublime and seductive form signaling eroticism.
Some of them show maternal love such as a woman holding her child and pointing to the moon to divert his attention, a woman raising her child high to let him pick a mango from a tree, a woman in a mango grove with her children.
The hard work it took to recover from a place buried under the earth to a 'Cleanest Iconic Place' is worth a Note keeping, so does the Government.
Anyway, thank you so much for reading. I appreciate your time and effort. If you've any questions about this post then don't deny your heart with a hesitation. I'm always open to any suggestions. Leave a clap if liked it. Every CLAP is your appreciation for my words.

Share if you consider this important to someone.
Have a great day 😊, Cheers!