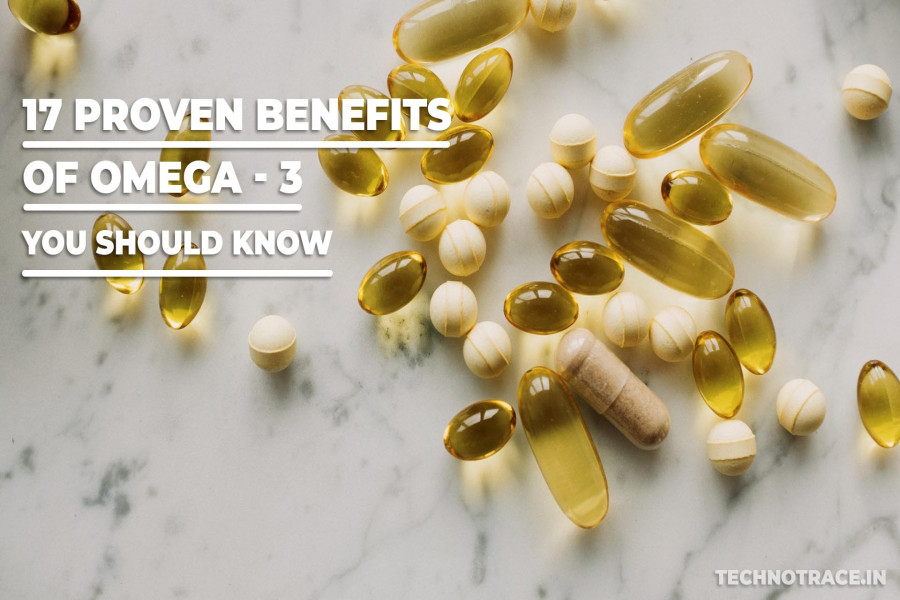 17 Proven Benefits Of Omega 3 , You Must Know
It's the fat, you must gain
Omega 3 is one of those good fats , which you must include in your diet every single day. Human body can not produce omega 3 on it's own, so we must intake it from outside.
Usually there are three types of omega 3
ALA (alpha-linolenic acid)
Mostly found in plants
DHA (docosahexaenoic acid)
Get this from animal protein
EPA (eicosapentaenoic acid).
Non vegetarian foods have
this kind of omega 3.
Flax seed, chia seeds, flaxseed oil, walnut , fatty fish are some great sources of omega 3.
Other than these options one may go for some omega 3 supplement like fish oil and capsules.
Omega 3 fatty acid has several health benefits , those are
Helpful to fight depression
Globally , depression has become one of the most harmful health problems. In every 50 people there will be 7 depressed people we will find, in suce
plots, omega 3 can tackle this problem quite well. Consuming omega 3 can boost our mood drastically.
For better eyesight
People who have low eyesight, must consume omega 3 fatty acid. It has some antioxidants which can improve visualization. Omega 3 fatty acid is one of the major structural components of the retina. So, consuming this in huge quantites
will definitely do wonders.
Good for pregnancy
Women in their maternity period, face a lot of difficulties regarding their physical and mental health. Omega 3 fatty acid is very important to take in this time for better mantle of the woman and the health of the baby.
Prevent heart attack
Where other fats are very harmful for your heart, omega 3 fatty acids are very healthy. It is needed. This is why, people who consume
fish very often, don't have any problems regarding the heart.
Can fight inflammation
We often see inflammation when there is any damage in your body. These small problems can become a bigger issue if we don't take proper care. One must include fish oil for that in their diet.
Can fight auto immune disease
Bacteria and viruses can cause trouble to your immune system. Ingesting
decent amount of omega 3 fatty acid will definitely help you a lot.

We often see type 1 diabetes for this reason. But intakining omega 3 continuously will end this problem forever.
Omega 3 also help treat lupus, rheumatoid arthritis, ulcerative colitis, Crohn's disease and psoriasis.
Help to reduce Alzimer
Alzimer becoming a very known health problem these days. Patients suffer
a lot with this problem. Consuming omega 3 can help Alzheimer patients to a certain point.

Omega 3 is interconnected with our mental health.
Reduces the risk of cancer
Cancer is the second most deadliest disease in this world. Thankfully omega 3 can prevent it to a certain point. Taking it from the very beginning will definitely help your health.
Asthma
Omega 3 is important to get rid of asthma, especially for babies. Omega 3 removes sneezing, wheezing and coughing problems.
This can stop swelling and inflammation in your lungs and keep it healthy.
Reduces fat from liver
NAFLD is a very dangerous disease in modern times. One must
take proper care for it. Omega can reduce it , studies have claimed that. Omega 3 fatty acid is the good fat that our liver needs. Omega 3 removes all the unnecessary fats that cause harm to our liver.
Removes bone problem
As we age, calcium deficiency becomes one of the most common problems, omega 3 fatty acid helps to absorb the vitamin D , so that our bones get
strong and healthy for a long time. It also removes random pain between bone joints.
Reduce menstrual pain
A lot of women face massive pain on their lower belly portion while menstruating. If they consume a
huge amount of omega 3 during that period , this element can work amazingly to reduce the unbearable pain.
Other than that, omega 3 fatty acid helps to improve
your sleep and it is a blessing for your skin.
Anyway, thank you so much for reading. I appreciate your time and effort. If you've any questions about this post then don't deny your heart with a hesitation. I'm always open for any suggestions. Leave a clap if liked it. Every CLAP is your appreciation for my words.

Share if you consider this important to someone.
Have a great day 😊, Cheers!